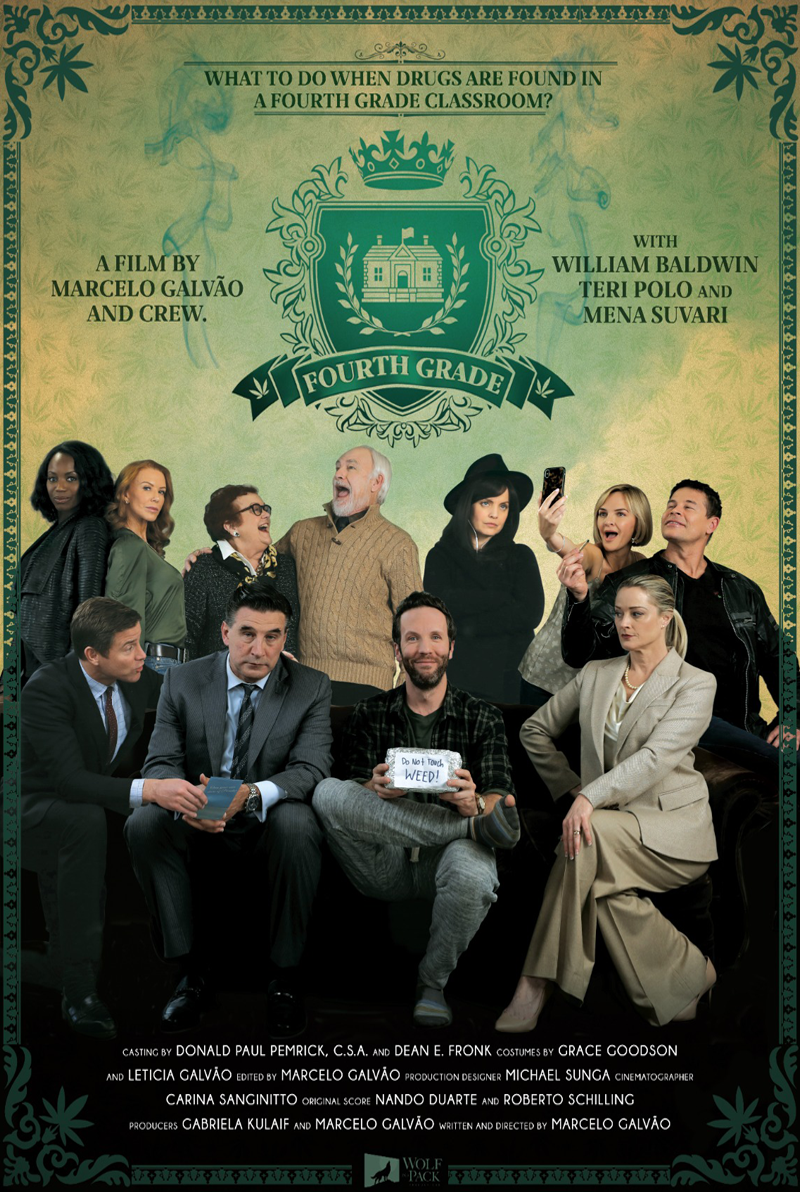 FOURTH GRADE
Comedy/Drama (2020) 80′
At a prestigious catholic private elementary school, a practical principal and a drama teacher gather the parents of the 4th Grade students to discuss an alarming situation: a brick of marijuana found in the theatre class. To protect the school's reputation, they need to expel the kid responsible for the weed.
Ten wealthy parents from Pacific Palisades, CA  and Eddie, an outsider, whose daughter just won a scholarship arrive at the meeting. After an aggressive discussion, the principal and the drama teacher leave the room. Eddie promises to find a solution within one hour and save the day. Accusations, intrigue, and insults ensue as the parents try and protect their own children.
In an effort to calm the hostility and think more calmly, one of the parents proposes that they try a little of the weed themselves. In the process, fragile and obscure secrets are revealed, and perspectives begin to shift. The weed problem is exposed as hypocrisy, and heartfelt truths and camaraderie blossom.
After a poignant, hilarious, and intriguing journey, one of the parents realizes that the brick is actually just dry manure… There was never any weed to begin with. (All rights available).
Directed by: Marcelo Galvão
Staring: William Baldwin, Teri Polo and Mena Suvari.
Language: English
THREE LIVES AND ONE DREAM
 Documentary (2020) 68′
Three Lives and One Dream is a documentary about Corine Goldenberg, Muriel Pokk and Suely Viola – 3 remarkable women who were abandoned by their husbands when they conceived children with Down syndrome.
It's the journey of strong, unconditionally loving mothers who nurtured their children to triumph over adversity and prejudice to achieve their dreams no matter how challenging or unrealistic they might have seemed.
Today, thanks to their efforts, their children — Ariel, Rita, and Breno have become stars because of the film "Buddies", and go on to win thousands of fans, as well as the special Kikito Prize awarded at the 2012 Gramado Festival (Brazil's most renowned international film festival).
The inspiring documentary explores the hearts of these dedicated mothers as they watch their children not only pursue, but also accomplish their dreams on an international stage. (All rights available).
Directed by: Marcelo Galvão
Staring: Corine Goldenberg, Ariel Goldenberg, Muriel Pokk, Rita Pokk, Suely Viola and Breno Viola.
Language: Portuguese
English subtitles